YOUNG CHRISTIAN, SEEK THE TRUTH!
OR "STAY AWAY FROM FALSE TEACHERS."
How can you as a seeker or as a "Babe in Christ" know that you are following the true way? There are many deceivers in the world today, and many false gospels. The most likely answer to how to avoid them is by studying the Word of God yourself and praying to God for the power of the Holy Spirit to teach it to you.
Any Preacher or Teacher of God's Word should:
Point you to a personal relationship with Christ. This does not mean pointing you to Christ just to get something you want. But, rather, it means that you be born again spiritually by turning to God, repenting of your sins, and asking Him to reveal Jesus Christ as your substitute on the Cross to take away your sins. That is foundational to any further understanding.

Jesus answered and said unto him, Verily, verily, I say unto thee, Except a man be born again, he cannot see the kingdom of God. John 3:3

They should preach the true gospel of salvation by grace through faith.

For by grace are ye saved through faith; and that not of yourselves; it is the gift of God. Not of works, lest any man should boast. For we are his workmanship, created in Christ Jesus unto good works, which God hath before ordained that we should walk in them. Ephesians 2:8-10.

They should not be light on sin. This means they need to not only teach the portions of Scripture that talk about the blessings of God, but also the portions of Scripture that teach how God expects people to live in Christ. This should be New Testament living, not laws from the Old Testament. There is a difference. See link to the Two Covenants below.

So when they had dined, Jesus saith to Simon Peter, Simon, son of Jonas, lovest thou me more than these? He saith unto him, Yea, Lord; thou knowest that I love thee. He saith unto him, Feed my lambs. John 21:15

They should teach on the sections of the Bible that talk about walking after the Spirit and not after the flesh. "Feel good" prosperity preachers make it sound as though God just wants to give us anything that we want. Nevertheless, the Bible teaches that God wants us to turn from sin and the flesh and follow the Lordship of Christ (the leading of the Spirit.) Often what we want in our flesh is not what God wants for us! We must seek His will.

This I say then, Walk in the Spirit, and ye shall not fulfil the lust of the flesh. For the flesh lusteth against the Spirit, and the Spirit against the flesh; and these are contrary the one to the other: so that ye cannot do the things that ye would. But if ye be led of the Spirit, ye are not under the law. Gal. 5:16-18

You should be fed sometimes on subjects like the blood atonement, security of the believer, the Old and New Adams, righteousness, sanctification, the work of the Holy Spirit in the believer's life and other subjects that are meat and not milk. And they should not draw people after themselves but turn them to Christ:

And I, brethren, could not speak unto you as unto spiritual, but as unto carnal, (fleshly) even as unto babes in Christ. I have fed you with milk, and not with meat: for hitherto ye were not able to bear it, neither yet now are ye able. For ye are yet carnal (not walking after the Spirit): for whereas there is among you envying, and strife, and divisions, are ye not carnal, and walk as men? For while one saith, I am of Paul; and another, I am of Apollos; are ye not carnal? Who then is Paul, and who is Apollos, but ministers by whom ye believed, even as the Lord gave to every man? I have planted, Apollos watered, but God gave the increase. So then neither is he that planteth anything, neither he that watereth, but God that giveth the increase. I Cor. 3:1-7.

Preachers and teachers should consider that many people who are following after them and their message may not be born again. Therefore, they should present the gospel often, and call people to repentance to come to Christ for salvation.

For I determined not to know anything among you, save Jesus Christ, and him crucified. I Cor. 2:2

They should preach and teach that the consequence of not getting saved is eternal separation from God, which the Bible calls Hell.

For God so loved he world, that he gave his only begotten Son, that whosoever belieeth in him should not perish, but have everlasting life. For God sent not his Son into the world to condemn the world; but that the world through him might be saved. He that believeth on him is not condemned; but he that believeth not is condemned already, because he hath not believed in the name of the only begotten Son of God. John 3:16-19

Preachers should emphasize that the rewards from God are spiritual, not the least of which is to know Him and be with Him eternally! Relationship with God is not based on earthly situations and circumstances and cannot be measured by how rich or poor one is, or what state he occupies in this world. The gospel has to be applicable to all people no matter their circumstances in life, and God is no respector of persons!

And this is life eternal, that they might know thee the only true God, and Jesus Christ, whom thou hast sent. John 17:3

For as many of you have been baptized into Christ have put on Christ. there is neither Jew nor Greek, there is neither bond nor free, there is neither male nor female; for ye are all one in Christ Jesus. Galatians 3:26, 27.

Preachers should not expect to be more wealthy than those in their congregations. Instead of a preacher living in luxury, why is that money not taken and given to the needy or to further spread the gospel? If the heart is right before God, the individual will not seek more and more luxury for himself. We are to be transformed into the image of Jesus Christ, Who was a self-sacrificing, humble Servant of God. He lived and taught humility and Love. The lifestyles and personal claims of His "servants" today must be an abomination to Him!

Perverse disputings of men of corrupt minds, and destitute of the truth, supposing that gain is godliness; from such withdraw thyself. But godliness with contentment is great gain. For we brought nothing into this world, and it is certain we can carry nothing out. And having food and raiment let us be therewith content. But they that will be rich fall into temptation and a snare, and into many foolish and hurtful lusts, which drown men in destruction and perdition. For the love of money is the root of all evil; which while some coveted after, they have erred from the faith, and pierced themselves through with many sorrows. But thou, O man of God, flee these things, and follow after righteousness, godliness, faith, love, patience, meekness. I Tim. 6:5-11

Preachers should teach truth, not lies. Example: Modern preachers take the word "riches" in the Bible and make it sound like God's Word is speaking of earthly, material riches, and if you claim them by faith, they are yours.. They tell you if you give to "their" ministry, God will give you back 100 fold -- always! There are no such promises in the Bible; they are deceiving you and making merchandise of you. The riches of God are not earthly riches and pleasures, but the heavenly, spiritual riches of love, joy, peace, faith, etc. To have those spiritual riches is a blessed state indeed. They are freely given to the child of God who rests his faith in Christ.

Therefore take no thought, saying, What shall we eat? or What shall we drink? or, Wherewithal shall we be clothed? For after all these things do the Gentiles (heathen) seek. for your heavenly Father knoweth that ye have need of all these things. But seek ye first the kingdom of God, and his righteousness; and all these things shall be added unto you. Matthew 6:31-33.
If you are not getting the right teaching from the teacher or preacher you follow, perhaps you need to look for a new one. Do not make an idol of your teacher so that you cannot advance further in your knowledge and understanding! Jesus is your Lord, not an earthly teacher. Ask God to send you godly teachers and for discernment and separation from that which is false. Ask Christian friends to pray for you in that area also.
What is more, you need to study the Word of God for yourself and ask God in prayer to teach your heart. To help in understanding, follow some good, solid, Bible-based commentaries and concordances. A good concordance will help with the meaning of the words and tell you where that word is used elsewhere in Scripture.
Remember, it is God's Earnest Desire that as His child, you learn and grow in the faith, and thereby grow closer to Him. Pray to Him everyday and seek His Will.
If you are in a Bible-based, Holy Spirit filled church, with a godly pastor, you will no doubt get fed there. But above all seek a personal relationship with Christ, not a relationship through someone else. And if your church starts preaching the "Name it and claim it, prosperity gospel," run as fast as you can to get out of there. It would be better not to go to church at all than to have your soul poisoned with such drivel.
We recommend the King James Version and Strong's Concordance which is keyed to the KJV. There are many versions and translations of the Bible; they are not all the same. Most of the differences are minor, however some of them are corrupt. There is much material on the Internet concerning the modern corruption in some versions. There is also material defending the corrupt versions; so be careful! Some have even removed whole passages are partial passages, and removed the word "blood" in certain verses which speak of Christ's Sacrifice for us. The Authorized 1611 King James is trusted and preferred by many. But other versions are used by many godly men and women. Before choosing the Bible you will use for your study, seek information on the different versions and pray about it. Also, as you grow, compare various versions to get a well-rounded view to what is being said.
There are many online helps to Bible study. The Blue Letter Bible is easy to use; you can look up words in the Strong Concordance and there are commentaries on that site also! There is also some good audio teaching by godly preachers and teachers. The audio teaching covers virtually every book of the Bible, so there is no excuse for not being able to learn and grow. But seek to hear the inner voice of God as the Holy Spirit teaches you truth. Don't be lazy and attempt to have others be your mediators or "priests" before God. There is only One Mediator, the man Christ Jesus, and you must have a personal relationship with Him! (I Tim. 2:5)
For Bible study:
http://www.blueletterbible.org/
A few sites About the False Teachings of the Prosperity Gospel preachers:
http://www.thewordsofeternallife.com/prosperity_gospel.html
http://www.rapidnet.com/~jbeard/bdm/Psychology/char/more/w-f.htm
http://craom.net/ProsperityGospel.htm
Dig into the Bible:
Start with the Gospel of John to study Jesus as God. (The Deity of Christ.) Then Romans, Galatians, Ephesians, Hebrews. Seek audio teaching at the Blue Letter Bible site to help you understand the teaching in those books. After you really learn the foundational teachings in those books, you are ready to launch out into the rest of the Bible.
Remember, before you can truly understand the Bible, you must be born again. Below are some articles on the subject:
Other articles that will help you:
Email me if I can help you in any way with your study of the Word of God. If I cannot myself answer your question(s), I will search my resources to find an answer for you. I will refer you to good links that you can trust. My desire is not to make merchandise of you, as many are doing to young Christians today. (You may be 80 and still be a young Christian, easy prey to those who would destroy your soul.) My desire is to help the young Christian find the True Way and help you in your quest to find true fellowship with true believers and guidance by those who really love the Lord. I do not claim to be the only one doing this; I just believe it is much needed. Don't fall prey to those who attempt to lead you after themselves!
Follow Christ!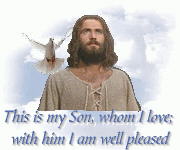 HEAR YE HIM! - Matt. 17:5
Copyright © 2005 Mary Cage. Permission is granted to freely use this article with proper credit given. The author requests that if used on a website, that a link be put to this site.